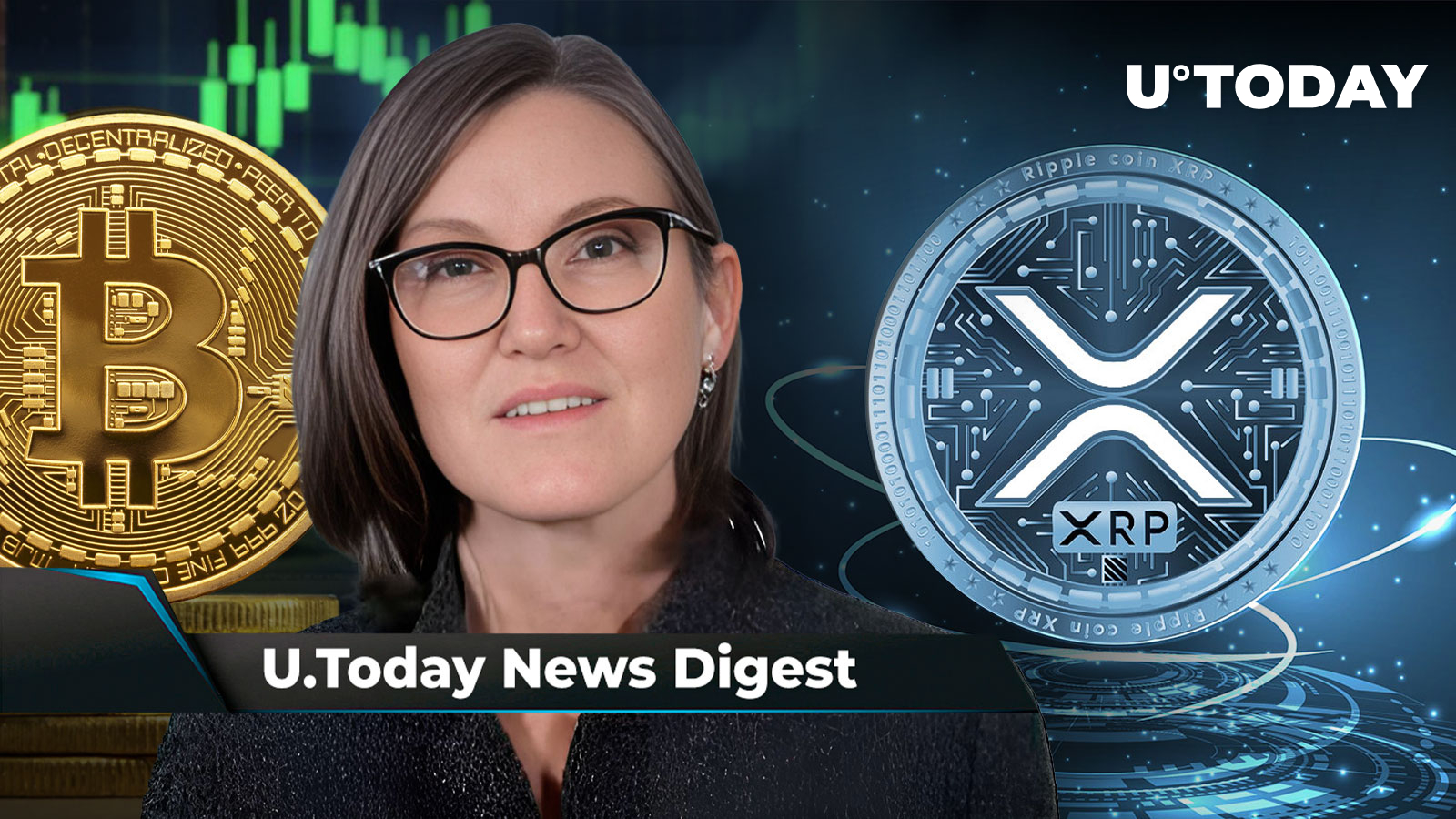 Here are the top three news stories over the past day presented to you by U.Today.
Bitcoin (BTC) price predicted to reach $600,000 by Cathie Wood
Ark Invest CEO Cathie Wood has recently made an appearance on the Yahoo! Finance YouTube channel, discussing such topics as Bitcoin's potential and the broader crypto market. During her interview, Wood also mentioned the anticipated approval of a spot Bitcoin ETF by the SEC, as well as her company teaming up with 21Shares in order to launch new crypto-focused ETFs. What stands out for BTC enthusiasts in Ark Invest CEO's interview is her bold prediction on the flagship crypto's price. According to Wood, her company's "base case" as of today is $600,000 to $650,000." She believes BTC's potential is derived from its scarcity and the institutional attention it has attracted. "There will only be 21 million Bitcoin ever…and we think that institutions, if the SEC blesses a Bitcoin ETF, will feel like the coast is clear," she said.
XRP relisted on major crypto exchange
According to a recent announcement made by the CEX.IO exchange on X platform, Ripple-affiliated XRP has once again become available for its U.S customers. From now on, CEX.IO's users based in the United States can buy, sell, convert, deposit and withdraw XRP across the exchange's product ecosystem. Thus, CEX.IO has joined the club of such major platforms as Kraken, Crypto.com, Coinbase and Bitstamp who relisted the XRP token following a pivotal U.S. court ruling. Per this ruling, made by Judge Analisa Torres, XRP "is not necessarily a security on its face," except when sold to raise funds from institutions. As a result of the relisting wave, XRP saw a significant price boost, which pushed the token to a year-to-date high of $0.938.
SHIB rep gives crucial reason why ShibaSwap 2.0 not released yet
Yesterday, Nov. 15, prominent Shiba Inu team member Lucie shared a thread on the X platform, in which she provided an explanation as to why the ShibaSwap 2.0 decentralized exchange has not been launched yet. Lucie wrote that the team behind the project aims to transform ShibaSwap 2.0 into "a comprehensive platform, going beyond the limitations of a traditional decentralized exchange." Another reason is the exchange's intricate design, the realization of which will require to "weave together a multitude of elements, necessitating a meticulously planned and strategically executed progression across interconnected webs." As a reminder, the initial version of ShibaSwap kicked off in 2021. In April this year, SHIB lead Shytoshi Kusama wrote on his Telegram channel Shibarium Tech that ShibaSwap 2.0 "is coming," calling for followers to "ignore anything that says otherwise."
About Author