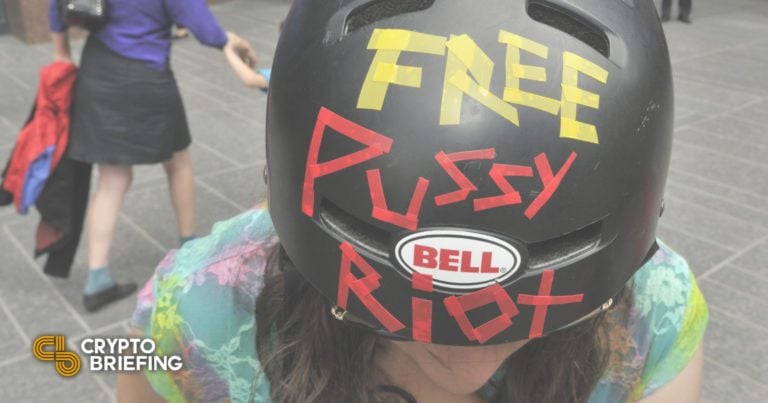 Key Takeaways
Feminist activist group Pussy Riot has partnered with some of the top creators in Web3 to launch UnicornDAO.
UnicornDAO will be a community-led investment fund focused on NFT projects led by women-identifying and LGBTQ+ artists in Web3.
The self-proclaimed goal of the movement is to "to tackle patriarchy in Web3."
Moscow-based feminist protest performance art group Pussy Riot has partnered with some of the biggest names in the Web3 and the NFT world to launch UnicornDAO, an investment fund solely focused on women-identifying, non-binary, and LGBTQ+ artists in Web3.
UnicornDAO Launches to Empower Women-identifying, LGBTQ+ Artists in Crypto
Pussy Riot launches activist Web3 investment fund UnicornDAO.
Per a Tuesday press release, the protest performance art group Pussy Riot is launching a new "feminist movement aiming to tackle patriarchy in Web3" called UnicornDAO. 
UnicornDAO will be a community-led investment fund that exclusively invests in NFT-focused projects from women-identifying, non-binary, and LGBTQ+ artists in Web3. According to the fund, such projects currently account for only 5% of all NFT sales—a condition that the movement aims to change. 
The activist DAO is launching with support from some of the biggest names in the Web3 and NFT space, including Beeple, Guy Oseary, Yuga Labs, Trippy, Ppl Pleaser, and World of Women. Commenting on the launch and the goals of the movement, UnicornDAO and Pussy Riot co-founder Nadya Tolokonnikova said: 
"Art made by women sells for 50% less than works by men. If you're a female or LGBTQ+ identifying person, you make more compromises than your male-identified counterparts. You are scrutinized, questioned, and often your professionalism is disputed. Capital is still vastly concentrated in the hands of men–they still rule the world, and it's not cute. UnicornDAO is here to redistribute wealth and allow women and LGBTQ+ people to empower themselves."
Tolokonnikova is also a founding member of UkraineDAO, which raised $6.75 million last week to aid Ukraine's war defense efforts against Russia by selling a one-of-one NFT of the Ukrainian flag.
UnicornDAO now wants to support women-identifying and LGBTQ+ creators in Web3 by, amongst other things, implementing a sponsorship program through a partnership with crypto payments infrastructure provider MoonPay. The program will ensure that creators and community builders belonging to marginalized groups can participate as members of the DAO without being hindered by any financial barriers to entry.
UnicornDAO will also organize a launch event at the South by Southwest film festival in Austin, Texas, with an all-women and LGBTQ+ lineup, including Pussy Riot members and notable Web3 creators.
Disclaimer: At the time of writing, the author of this piece owned ETH and several other cryptocurrencies.
Powered by WPeMatico